Autumn is approaching, pumpkins are in peak season, and it's the first time I've been sticking to a fully raw vegan lifestyle for 5 months now. Pumpkin has always been one of my most favorite vegetables and pumpkin soup a go-to recipe for me during autumn. Thus, I don't want to miss out on a creamy and comfy pumpkin soup as a raw vegan and came up with this delicious and super satisfying recipe! 🙂
"I can smell autumn dancing in the breeze.
The sweet chill of pumpkin, and crisp sunburned leaves."
(Ann Drake)
Have you ever tried eating raw pumpkin? Ok, I must admit that taking a bite from a raw pumpkin does not feel really appealing; however, creating this smoothly blended soup in combination with some other flavorful ingredients definitely hits the spot!
This recipe requires a high-speed blender for perfect consistency, and you can blend your soup up to 2 or 3 minutes to create a warmer temperature, yet still keeping it raw. You can decorate your soup with any toppings of your choice: nuts, seeds, and sprouts add a crunchy texture, while different herbs will make it even more flavorful.
Ready to start? 🙂 Let's dive right into it!
Ingredients (2 servings)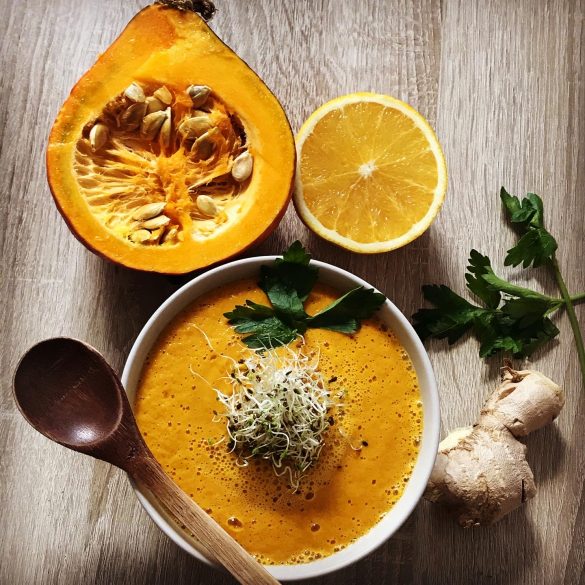 4 cups raw pumpkin
2 carrots (medium)
2 handful cherry tomatoes
1 garlic clove
1 orange (juice)
1/2 lemon (juice)
0,5-1-inch ginger (fresh)
½ cup sesame seeds OR ½-1 avocado OR 1 tbsp coconut cream/butter
½ tsp curry powder
Optional: pinch of salt and pepper
splash of water (for desired consistency)
Toppings: fresh herbs (coriander, parsley, dill), slivered nuts, sprouts, (pumpkin) seeds etc.
Instructions
Put all ingredients in a blender and blend well until smooth.
Tip: Blend for 2-3 minutes to make the soup warm (not hot/cooking).
Serve in a bowl and top your soup with toppings of your choice.
Make yourself comfy and enjoy your raw soup!