Zoodles – a fresh, delicious, and very light alternative to regular pasta. If you want to bring more raw vegetables in a fun and tasty way into your life, zucchini noodles are the ultimate way to go for.
"Luminous health is your birthright.
Expressing your heart's truth is your greatest gift."
Zoodles add a refreshing flavor and nice texture to this dish. I prefer eating them raw, but you can also cook them for a couple of minutes in slightly salted water.
If you don't have a spiralizer at home – no problem! Just use a simple vegetable peeler and give it a go. The combination of this fresh, vegetable based pasta with a creamy, slightly sweet tasting sauce, and the extra protein kick with tofu, sprouts, and seeds makes this dish extraordinary.
See for yourself and let's get started!
Ingredients (2 servings)
3 zucchinis
2 large sweet potatoes
1 onion
200 ml coconut milk
2 tbsp peanut butter
200 g tofu
2 fresh tomatoes
pinch of sea salt
pinch of pepper
½ tsp cumin
½ tsp paprika
pinch of turmeric
toppings: avocado, sprouts, seeds, fresh parsley, etc.
Instructions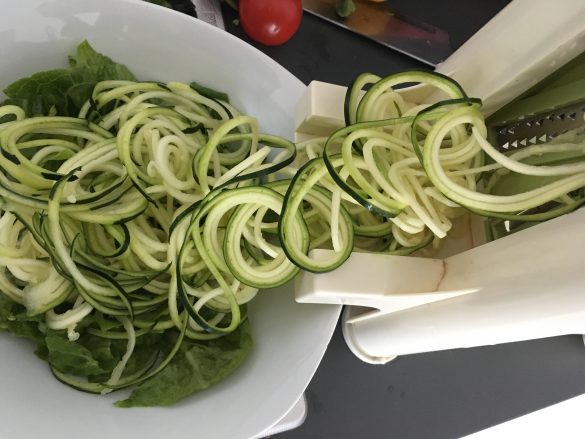 Wash and cut sweet potatoes in small pieces. Peel and cut the onion. Put them together in a pot and add some water. Bring them to a boil and let simmer on low heat (for 15-20 minutes) until soft.
Meanwhile, wash zucchinis, cut the ends, and spiralize them with a spiralizer, slicer or veg peeler.
Wash and cut tomatoes into little pieces.
Wash and cut tofu in cubes.
Add coconut milk, peanut butter, and the spices to the sweet potatoes. Bring it to a quick boil again.
Blend half of the sweet potato mix, add tofu to the sauce. Heat up again let it simmer for 2-3 minutes.
Serve spiralized zucchinis with the sweet-potato peanut sauce on top, add fresh tomatoes and any toppings of your choice.
Yum-o – Enjoy!